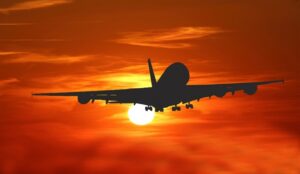 Flying in 2022 has some challenges.
Many variables impact the pricing patterns of plane tickets, including the destination and time of year. In some cases, you can book just a couple of weeks in advance, while in others, you're better off booking months ahead (such as a trip over a big travel holiday, when demand is high)
It is a good idea to book flights in advance of your trip, as prices spike sharply in the days preceding the flight.  Many last minute travelers have no choice but to pay up.
The following tips, when planning to purchase airline tickets, may be helpful:
Track prices as early as possible.
Use Google Flights or Hopper to track your flights to keep an eye on price fluctuations.
The average time to purchase plane tickets for domestic flights is 64 days before the departure date. That depends on what season and where your point of destination is. For summer and holiday travel it is suggested that you book prior to the 64 day average.
For domestic flights book at the end of the weekend which statistically can save you 5% for domestic flights and up to 10% on international flights. For international flights it is generally cheaper to start the trip during the end of the week – Wednesday-Saturday. For Domestic flights the ideal time to start a trip is on Fridays.
The ideal time to fly domestically is in January (generally 10% less expensive than in June.) For international flights, August is the ideal month.
Early morning flights are generally less crowded and less likely to be cancelled.
Pack as light as you can so you can opt for carry-on luggage which will save you time and money.
Choose non-stop flights whenever possible. Connecting flights can lead to unexpected delays or even cancellations. If you have to book a connection allow enough time when selecting the connecting flight to easily board without fear of missing the connecting flight.
There are often hidden costs when purchasing tickets on a discounted ticket sight. If the price looks right check to see that it includes taxes, checked baggage and seat choices. If not that can add up. Check directly with the carrier before making the purchase at the discounted ticket site.
Select a seat no more than ten rows from an exit.
Airfare prices fluctuate daily. When you see what you want grab it!